Web Safety - Digital Citizenship
Safe and Appropriate Use of Information and Communication Technologies
In many ways photographs, written text, drawings and moving pictures on a computer are the same as those on traditional media. However the power to share information either intentionally or unintentionally has never been easier for anyone in history than it is today through ICT.
Being aware of both the power and the risks of sharing information is imperative for everyone using communication and information technologies. Acting safely and following RVS ICT policies are an important steps toward protecting ourselves and our community of learners.
Cyber Choices 3-5 - MediaSmarts
https://mediasmarts.ca/teacher-resources/licensed-resources/cyber-choices-grades-3-5
Cyber Choices is designed to help students in grades 3 to 5 develop the skills and habits they need to make safe and responsible choices online. Delivered in an engaging online comic-book format (with accompanying audio to support developing readers), Cyber Choices lets students explore four different stories that cover key issues such as making good choices about your own and others' personal information, dealing with cyberbullying (as both a target and a witness) and managing online conflict.
A Day in the Life of the Jos 6-8 - MediaSmarts
https://mediasmarts.ca/teacher-resources/licensed-resources/day-life-jos-grades-6-8
In addition to Cyber Choices 3-5, MediaSmarts has created a game for Grade six to eight students that helps them to think critically about issues relating to online privacy and marketing, responsible Internet use, authenticating online resources and Internet safety. As students work through the five modules, they will determine what actions should be taken for each scenario and then receive feedback on the consequences of their decisions to help them learn key skills and knowledge.
The accompanying Teacher's Guide features an overview of the game, detailed instructions on how to play the game, links to research and resources on the issues covered in the scenarios, and an answer key to the questions for each topic. Teachers can track each student's progress in the game and evaluate their performance. There are post-activity quizzes.
Digital Citizenship
Digital Citizenship is more than just a teaching tool; it is a way to prepare students/technology users for a society full of technology. learn more
Current Research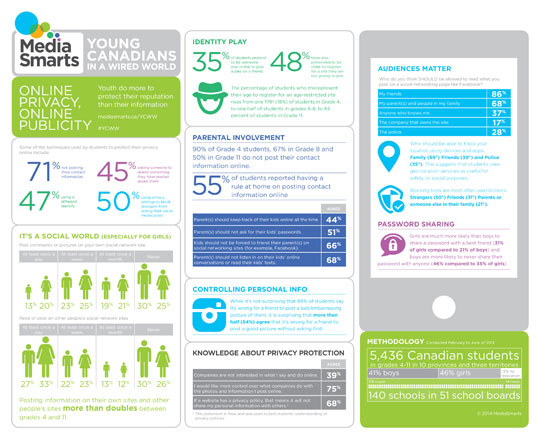 SlideShare Presentation
Document Actions